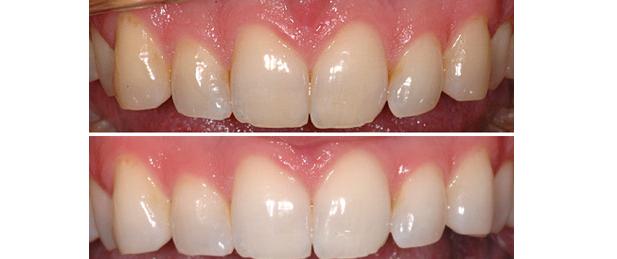 Tooth whitening ("tooth bleaching") is one the easiest ways to rejuvenate a smile. Safe and effective tooth whitening options available at Lakeshore Woods Dental include at home whitening using custom trays or in-office whitening using stronger agents.
For at-home whitening we fabricate custom appliances to fit over a patient's teeth. The whitening agents are held in contact with the teeth for between 30 minutes and overnight depending on the product. Intimate adaptation of the whitening materials can improve the access of the whitening product to the complex curves between the teeth. This is often an advantage over the whitening strips purchased from pharmacies and grocery stores. Great results are usually attained in about a week.
In-office whitening is a way to get maximum results in a shorter period of time. We are pleased to offer Zoom!™ teeth whitening. During treatment, the Zoom!™ Whitening Gel is applied to the teeth and then heated with the Zoom!™ Whitening Lamp. The heat activates the gel, which penetrates the teeth's surface to lift out stains. Zoom!™ can whiten teeth by six to ten shades in just one office visit.